Nick Jonas and Demi Lovato joined "The Late Late Show" host James Corden for a very special "Carpool Karaoke" segment.
The trio sing Lovato's hit songs "Heart Attack" and "Stone Cold" before singing Jonas's hits "Close" and "Chains."
After performing "Chains," Corden asks Jonas if he's ever been tied up in bed. "I have actually, I didn't enjoy it at all," he admits.
Jonas also recalled being tied up at a gay club during a performance of "Chains."
[
RELATED:
Nick Jonas Gets Chained Up At Gay Club To Makes All Of Your Bondage Fantasies Come To Life
]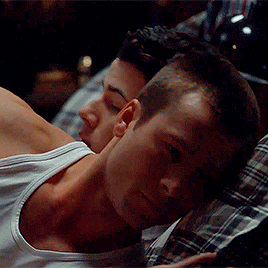 "I performed at a gay club one time and they literally chained me to the wall as I'm performing the song. It was very, very erotic," Jonas says. (Check out his chained-up gay club performance here.
Check out the episode below:

[
RELATED:
Sneak Peek: Nick Jonas Gets Naked In New Racy Sex Scene!
]