If you grew up watching David Henrie play the character of Justin Russo on Disney's Wizards of Waverly Place, it will come as no surprise that the now 25-year-old actor is a total babe!
For the unfamiliar, Henrie joined the Disney channel original series in 2009, featuring a young Selena Gomez. He also had a recurring role on That's So Raven as Cory's friend Larry.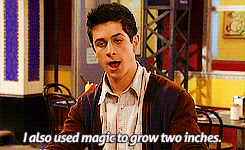 Now he is a total hot bodied hunk and he loves taking selfies for his instagram fans:
Thank you Disney!
h/t: NNN